System: Vita (Reviewed), Windows, Mac OS X, Xbox 360, PS3, iOS, Ouya
Rating: M
Length: 12 hrs approx.
Telltale's The Walking Dead, is heaven for any fan of the comic series and TV series of the same name. It's got a story that keeps you glued to the screen, a story which adapts to the choices you make and the things you say. This riveting and heart pounding story spans across 5 episodes and keeps the tension and emotions high throughout. However, having played this game on the Vita, which is what I'm reviewing today, I can tell you, it's got some technical issues, which hamper the experience and sadly bring the score down.
Short nitty-gritty plot description from the Official Website is as follows: The Walking Dead is a five-part game series set in the same universe as Robert Kirkman's award-winning comic book series. Play as Lee Everett, a convicted criminal, who has been given a second chance at life in a world devastated by the undead. With corpses returning to life and survivors stopping at nothing to maintain their own safety, protecting an orphaned girl named Clementine may offer him redemption in a world gone to hell.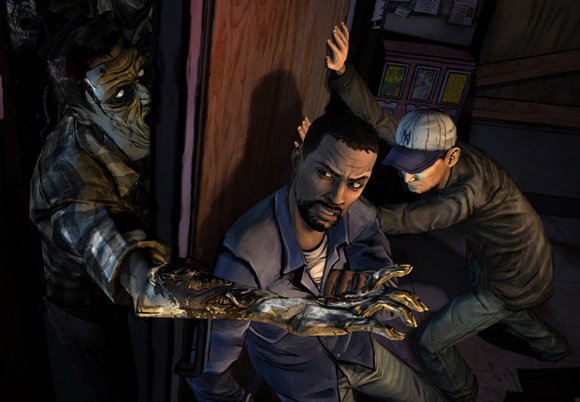 Tatlock's Quick 'n Dirty Recap: The Walking Dead is a hard game to describe, as my story can be fairly different than yours. I made some hard choices, some which I regret and others which was the only option at the time. You play as Lee, a convicted man, who on the way to prison, gets in a car accident, just as the mysterious outbreak is happening. From there, you meet a little girl by the name of Clementine, who's parents are missing. You decide to take care of her and it's from here you start the story and meet several different people, with dozens of choices to make. Some of these choices will be life or death for the characters and as the story progresses through the 5 chapters, it involves into your own little tale to tell around the water cooler. It's quite the accomplishment.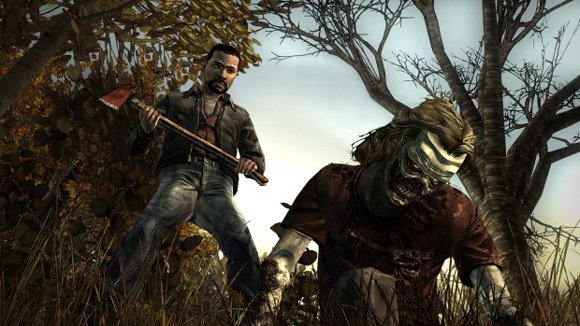 Tatlock's Opinion: Okay, so we know the game is amazing when it comes to the story, but what about everything else? On the Vita, the game looks beautiful, it really does, but it's the performance which suffers. The game pauses for a second or two during most big events, telegraphing that something major is about to happen. This is the biggest pain, as it will take you out of the game on several occasions. There are even times where the game will pause and you'll still hear the sounds playing and before you know it, you have a second or two to make a decision, instead of the usual 4 or 5 seconds you had. This can cause some big problems, as you'll end up dying several times at that spot and you have to put up with some lengthy reloads. If it wasn't for those issues, the game would be perfect. It's got a simply amazing story, some beautiful graphics and sound work, which is phenomenal.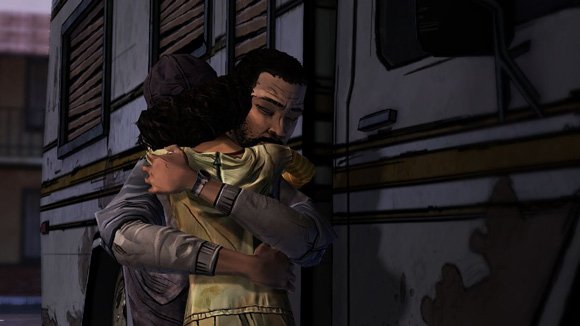 Verdict: The Walking Dead from Telltale is an amazing experience, which will have you stuck in front of you screen, playing until the wee hours of early morning. The story you craft will be yours to live and experience and the choices you make will also be yours to live with. Fans of The Walking Dead will fall instantly in love with this game, as I did, but you gotta know, that if you're playing it on the Vita, some technical issues are really going to effect your experience negatively, which is a damn shame.
Rating: 4/5 (I would love to give this game a 5/5, but sadly on the Vita, -1 is taken away for some slow down and freezes. However, +4 for everything else, which is all top notch.)
*Note* The Walking Dead for the Vita also contains the add on content, 400 Days. I have yet to play it, but when I do, expect a separate review.