Whilst searching for scary haunted house movies a little while back, I kept seeing the movie The Sentinel pop up consistently. It was quite some time ago that I watched the movie and it completely slipped my mind that I had already seen it when Scream Factory announced a Blu-ray release of the movie. Now, does me completely forgetting that I saw the movie already mean I didn't like it? Not really, as after getting my hands on the Blu-ray release, I sat down and gave the movie another watch and I came out thinking it's a great little creepy flick, with only a few problems, which I will get into after the jump…
PRODUCT INFORMATION
DISCS: 1
RUN-TIME: 92 min
ASPECT RATIO: 1.85:1
RESOLUTION: 1080p
AUDIO: DTS-HD Master Audio 2.0
LANGUAGE: English
SUBTITLES: English
REGION: A
RATING: R
PRODUCTION DATE: 1977
RELEASE DATE: Sept 22nd, 2015
PLOT SUMMARY
When a beautiful model, Alison Parker (Cristina Raines, Nashville, The Duellists), rents an apartment in a gloomy New York brownstone, little does she realize that an unspeakable horror awaits her behind its doors…a mysterious gateway to hell. Alison likes her eccentric new neighbors, so it comes as a shock when she's told that, except for a strange old priest, she's the only tenant.

Based on Jeffrey Konvitz's best-selling novel, this contemporary gothic chiller features amazing special makeup effects by the legendary Dick Smith (The Exorcist, Little Big Man) and an incredible assemblage of stars including Chris Sarandon, Ava Gardner, José Ferrer, John Carradine, Burgess Meredith, Beverly D'Angelo, Jerry Orbach, Jeff Goldblum, Tom Berenger and Christopher Walken. Director Michael Winner (Death Wish) comes up with something to terrify everyone in this spine-tingling exercise in supernatural horror.
MOVIE
The Sentinel is based on Jeffrey Konvitz's book of the same name, released in 1974. I never read the book before, so I can't compare the two. I can, however, tell you what the movie is about. Alison Parker is a troubled model who has tried to commit suicide not once, but two times in her lifetime. She certainly had a good reason the first time, walking in on her deranged father having a three-way with a bunch of freaky ladies and copious amounts of dessert. That would make anyone want to end it right then and there. The second time had to do with her boyfriend Michael, played by the moustache wearing Chris Sarandon. Michael was cheating on his wife with Alison and his wife ends up committing suicide (or did she?). Alison blames herself and tries to end it again. (I swear, this lady has it rough, but dear god, take a valium or something and just relax.)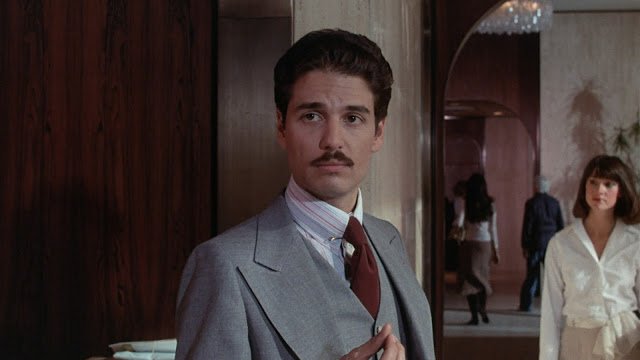 After two failed attempts at ending her life, Alison feels it's time to move out on her own and live her life (yeah, cause all people with suicidal tendencies should live by themselves.) She seeks out an apartment and what do you know, she finds a smoking hot deal on a place that overlooks the city skyline. Could it be too good to be true? Of course it is, as the place is a gateway between Heaven and Hell and Hell is just waiting to burst through and the demons of the underworld are just itching to get out. The only person that can stop it all is Alison, but will she succumb to another temptation of suicide, or step up and become the next guardian of Earth? I will never tell!!!
The Sentinel is certainly an interesting movie, with a lot of weird quirky stuff going down. I didn't even get into the details about all the weird tenants of the building, which include a horny Beverly D'Angelo, a cat loving Burgess Meredith and a blind priest who does nothing but stare out the window all day. There are many moments in the movie that will give you some good goosebumps. One scene in particular that stands out is when Alison is up investigating a noise and something comes out of the darkness to attack. It's quite chilling to be honest.
The movie does have a few issues, though. Chris Sarandon's character is never truly fleshed out appropriately and we never get a good idea as to whether he is truly bad or not. When the end rolls around, the movie expects you to see it as one way and one way only, but the movie fails to justify that sudden character shift. Also, I'm sure I"m not the only one that feels incredibly uncomfortable at the end of the movie with the use of real people with real deformities to play demons. They use these people to shock and scare us, but I feel bad for them. Was it too hard to do makeup instead? I mean they have Dick Smith (The Exorcist) doing the makeup, so it should've been easy to do.
The Sentinel is a weird movie to review. On one hand, I really enjoyed the film, but on the other hand, there are faults but don't all movies have problems? Several scenes will seem quite cheesy nowadays and some may be annoyed come the ending, but I think the creepy factory of the flick far outweighs any issues that can be had with it.
BLU-RAY
For fans of the movie you're going to love the Blu-ray release from Scream Factory, as it's got quite the helping of Special Features and quite nice looking video and pleasing audio. The features included are a 24-minute interview with Assistant Director Ralph S. Singleton, trailers, TV spots, still galleries and not one, but three commentaries! Damn good disc if I do say so myself, which I do and I did.
BLU-RAY SPECIAL FEATURES
NEW 2015 High Definition Transfer Of The Film From The Interpositive
NEW Audio Commentary With Actress Cristina Raines
NEW Audio Commentary With Writer/Producer Jeffrey Konvitz
NEW Interview With Assistant Director Ralph S. Singleton
Audio Commentary With Writer/Producer/Director Michael Winner
Theatrical Trailer & TV Spots
Still Galleries – Movie Stills, Press Photos, Posters And Lobby Cards
VERDICT
This review probably confused you more about whether you should see the movie or not and I do apologize for that. I had a heck of a time trying to think of something to write down. I mean, I enjoy the movie, but it's one that is easier to be seen instead of read about. I myself am glad that Scream Factory went all out with this Blu-ray release and I don't think you can go wrong by picking it up today.
RATING