Why is it that the '80s was a time when horror remakes just worked? We had The Thing in 1982, The Fly in 1986, and The Blob in 1988. Is it because they all start with 'The' or does it have to do with the fact they had passion in front of and behind the camera? Maybe it's because they tried to do something new and original instead of just recreating the same film? Whatever the case, I don't have time to figure out that mystery, but I do have time to talk a bit about one of those great remakes, The Blob, directed by A Nightmare on Elm Street 3 director Chuck Russell, which has been newly released on a Collector's Edition Blu-ray from Scream Factory.
There is a lot that makes The Blob stand out as a great remake. It takes the general story of the original and ups everything. We get some fantastic gore and special effects, great acting, and a straight-to-the-point story that doesn't waste any time. There isn't one point in the 95-minute runtime where you're going to be checking your watch (or most likely your smartphone). I honestly can't think of anything negative to say about the film, mainly in part due to the fact I grew up loving the movie and had the VHS poster hanging on my wall for many years. My opinion may be biased, but my nostalgia wasn't misplaced as the film still holds up wonderfully today. It's a damn shame a sequel was never released, as the ending sets it up wonderfully. Of course, never too late to get on that!
Blu-ray
Scream Factory releases The Blob on a Collector's Edition Blu-ray with a lot of new features, but it does use the same transfer from the German Mediabook and Umbrella Entertainment release. The Region 1 release from Twilight Time has slightly brighter video. Some may prefer one over the other, but in my useless opinion, I think the darker transfer looks better on Scream Factory's Blu. However, it would have been nice if a new transfer was struck, as it's looking a bit dated compared to some of Scream's newer releases of older films on Blu-ray. Audio is provided in DTS-HD Master Audio 5.1 and 2.0. I listened to the 5.1 track and enjoyed the use of rear channels. I noticed no issue with either soundtrack (but I usually don't). 
When it comes to talking about "new" on the Scream Factory Blu-ray, we are mainly discussing all the extra features that the company has provided. We have two new audio commentaries, a ton of new interviews, and behind the scenes footage with Special Effects artist Tony Gardner and his team (that feature alone runs over 28-minutes). I do find it interesting that Shawnee Smith was not interviewed but provided a commentary. There is also no interview with actor Kevin Dillon either. It would have been nice if Smith and Dillon could have sat down together and done the commentary.
Extra Features
What's Included?
NEW Audio Commentary With Director Chuck Russell, Special Effects Artist Tony Gardner, And Cinematographer Mark Irwin, Moderated By Filmmaker Joe Lynch
NEW Audio Commentary With Actress Shawnee Smith
NEW It Fell From The Sky! – An Interview With Director Chuck Russell (HD; two parts; 22:26 and 26:32)
NEW We Have Work To Do – An Interview With Actor Jeffrey DeMunn (HD; 14:13)
NEW Minding The Diner – An Interview With Actress Candy Clark (HD; 16:40)
NEW They Call Me Mellow Purple – An Interview With Actor Donovan Leitch Jr. (HD; 15:21)
NEW Try To Scream! – An Interview With Actor Bill Moseley (HD; 18:38)
NEW Shot Him! – An Interview With Cinematographer Mark Irwin (HD; 18:10)
NEW The Incredible Melting Man – An Interview With Special Effects Artist Tony Gardner (HD; 22:02)
NEW Monster Math – An Interview With Special Effects Supervisor Christopher Gilman (HD; 26:14)
NEW Haddonfield To Arborville – An Interview With Production Designer Craig Stearns (HD; 20:32)
NEW The Secret Of The Ooze – An Interview With Mechanical Designer Mark Setrakian (HD; 19:41)
NEW I Want That Organism Alive! – An Interview With Blob Mechanic Peter Abrahamson (HD; 12:23)
NEW Gardner's Grue Crew – Behind-The-Scenes Footage Of Tony Gardner And His Team (HD; 28:18)
Audio Commentary With Director Chuck Russell, Moderated By Film Producer Ryan Turek
Theatrical Trailers (HD; 2:53)
TV Spot (unrestored HD; 0:32)
Still Gallery (no chapter breaks; 5:00)
What's Missing?
Show Features
Twilight Time

Isolated score track
Q&A panel with Chuck Russell, Ryan Turek and Joshua Miller featurette
Liner notes booklet
Umbrella Entertainment
"Directing The Blob" Interview with Chuck Russel
Al!ve
 BD Info
Packaging Details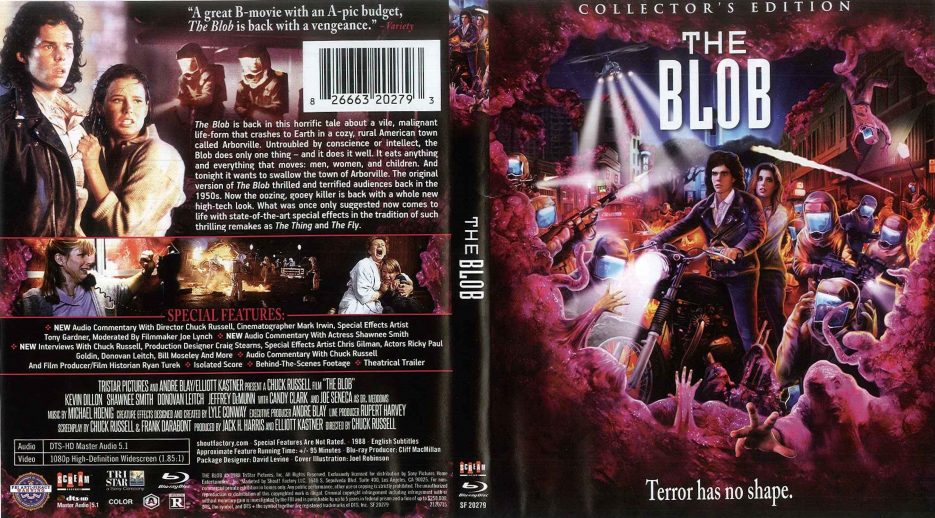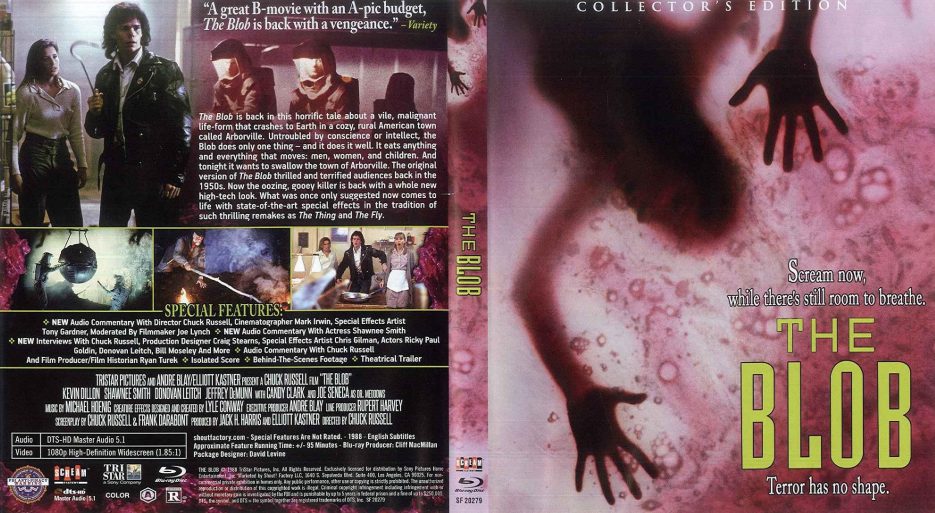 Verdict
Due to the fact I've always loved The Blob remake, I knew that when I turned on this new Blu-ray, I was going to love it. However, it's nice to see my nostalgia wasn't misplaced and the fact there is plenty of new extra features and interviews makes it an easy recommend. My only complaints are that a few key actors are not interviewed, and we didn't get a new video transfer. Besides that, we have a Blu-ray release worthy of picking up. Do it!