Slasher films are a dime a dozen nowadays and most of them can't keep the identity of the killer a secret for long. Maybe it's due to crappy writing or the desensitization of a society who has seen it all. Terror Train can be seen as like any other slasher, but something special has happened to it. It's managed to keep the killer a secret all the way to the very end and that my friends, is a talent most can't obtain. As for the rest of the movie? Read on to find out…
Release: Oct 3rd, 1980
Rating: R
Run time: 97 mins
Starring: Ben Johnson, Jamie Lee Curtis
Director: Roger Spottiswoode
Short nitty-gritty plot description from IMDb is as follows: A masked killer targets six college kids responsible for a prank gone wrong three years earlier and who are currently throwing a large New Year's Eve costume party aboard a moving train.
Tatlock's Quick 'n Dirty Review: In an interview with Jamie Lee Curtis, she was quoted as saying that both this movie and Prom Night, two movies that came out the same year, were not great movies. Now, I know everyone is entitled to their opinion (and one good scare), but I gotta disagree with the Scream Queen. As evident in my Prom Night review, I thought the movie was great and for Terror Train, I thought it was a fantastic time and I ended up enjoying it way more than Prom Night.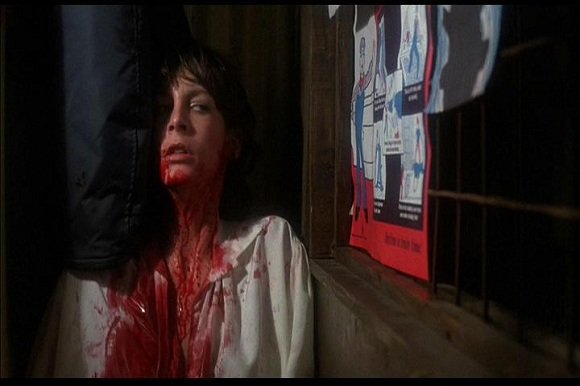 Things do start off a little shaky at first. Of course, using the trope that's been used forever (the prank gone wrong), you know it's going to come back and haunt these college kids. As we flash forward three years, the group of kids are off on a train excursion and a masked killer is aboard, along with a very young-looking David Copperfield as the magician. Now, I was a little bored at first, as the movie takes its sweet time setting things up. Combine that with the lack of kills and some really wooden acting, thanks to a badly written script, I thought I was in for a long one, but thankfully things do speed up nicely come the midway point. Once the killing starts racking up and Ben Johnson, who plays the Conductor of the train, gets involved with the murder mystery, the tension really starts to ratchet up. Come to the end, we get an amazing showdown with the killer and our heroine and I'll tell you, folks, it was a pretty intense and brutal stand-off. (Plus, the killer's masks look fantastic throughout.)
Blu-ray Opinion: Terror Train is presented on Blu-ray from the lovely folks at Scream Factory and it's probably never looked better. There is some dust and scratches here and there, but overall, it looks and sounds great.
Blu-ray Features: 
– Destination Death – An interview with Producer Daniel Grodnik
– Riding The Rails – An interview with Production Executive Don Carmody
– All Aboard! – An interview with Production Designer Glenn Bydwell
– Music For Murder – An interview with Composer John Mills-Cockell
– Theatrical Trailer
– TV Spot
– Still Gallery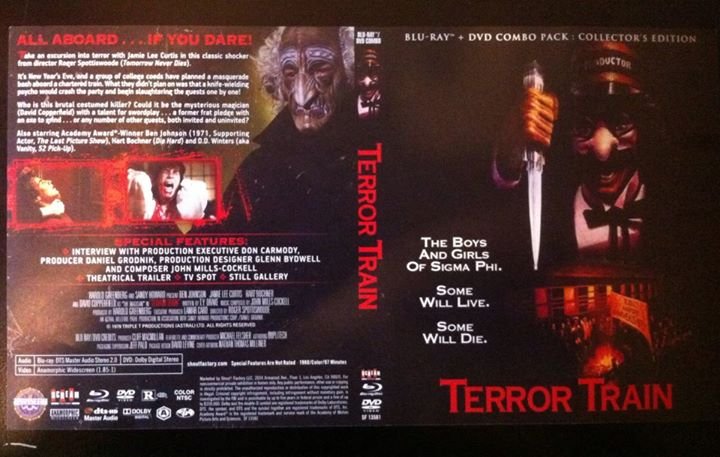 Verdict: Besides a slow start and some wooden acting, Terror Train speeds up the ride and gives us a murder mystery, with some gods honest mystery behind it. Combine all that with a masked killer, who has a wonderful fight with our leading lady and a set of boobs, Terror Train is one ride worth taking.
Rating: