Zombie films are a dime a dozen nowadays, so it's rare to see one that piques my interest. They need to offer up something different for me to check them out, no matter how old or new they are. In the case of Revenge of the Living Dead Girls, the promise of copious amounts of nudity and splattering gore was enough to get my engine revving. Throw in it being from the mid-80s and on Blu-ray from Severin Films: then hell yeah I'm checking this shit out!
What is Revenge of the Living Dead Girls? Well, besides some calling it a poor attempt at cashing in on the 1985 The Return of the Living Dead (I don't agree with this statement FYI), Revenge of the Living Dead Girls is a 1986 French film from director Pierre B. Reinhard, whose other film credits include classics like Dressage and James Bande contre O.S.Sex 69. It stars a bunch of people I have never even heard of, but thankfully pretty much all the actresses in the film have no problems getting naked. Don't worry, some of the actors get kind of naked as well, but nothing that will make the waterfalls gush.
The story is, shall we say, a bit convoluted and full of plot holes. It involves: a corrupt milk company dumping toxic waste near a cemetery, a biker poisoning a milk supply, a beautiful assistant plotting blackmail against her boss with a ridiculous yet mindbogglingly effective plan that involves sex tapes and nipple rubbings, and a sexy German company woman out to hide the truth! The "living dead girls" are three women, one who eats cereal in front of her mother only wearing see-through sexy underwear, and two girls who get off on playing pinball and drinking milkshakes at a bar. Don't forget the lab scientist who is tricked into making love with a corpse only to have his hand transform into something oddly gross that can also somehow affect a woman's pregnancy. If you think it sounds utterly confusing, don't worry – the film puts up a little untranslated epigram that answers all your questions.
Revenge of the Living Dead Girls is one of those lovely bad films that is so sooooo bad that it somehow manages to flip over to the good side. It's got a lot going for it that will make it stick in your brain: from death scenes that feature dick chomping to vagina swordplay, English voice dubbing that doesn't match any of the actor's actions (the film can also be watched in French, but I think to really experience this film you need watch it at least once with the English dub), and an ending that will leave you speechless. Revenge of the Living Dead Girls is a zombie sex romp for the whole family!
Blu-ray
Severin Films previously released Revenge of the Living Dead Girls back on Black Friday 2019 in a limited edition package that included a CD soundtrack and different artwork. This new release scraps the CD and swaps the cover art, but everything else is the same. Severin quotes the video transfer as being remastered in HD but doesn't provide any details as to what source was used for the transfer. The quality is not bad at all, with the occasional dirt and debris sprinkling the screen here and there. Nothing will distract you from your viewing experience. Audio is presented in either a French or English DTS-HD MA 2.0 mono track. English subtitles are provided on both tracks. It should be noted that some of the dialogue hasn't been dubbed and there are no English subtitles for those bits either. It's mostly near the beginning of the film and you aren't missing out on anything important.
Revenge of the Living Dead Girls has been released previously in Germany and France and the extra features on those releases are ported over to Severin Films' release, minus a few interviews, deleted scenes and an alternate ending (those would have been nice to include). What we do get is three interviews, a theatrical trailer, and an Easter Egg. The interviews add up to roughly 50mins. I also want to point out that the Severin Films website states this release features all-new special features, but that is not entirely true unless you refuse to believe other region releases exist.
Extra Features
NEW HD remaster
Revisiting the Revenge – Interview with Special Effects Artist Benoit Lestang and Writer Jean-Claude Roy (unrestored HD; 13:29)
The Revenge – Interview with Director Pierre B. Reinhard (HD; 21:54)
Inside Studio Lestang – Interview with Special Effects Artist Benoit Lestang (unrestored HD; 15:26)
Theatrical Trailer (HD; 2:43)
Easter Egg (unrestored HD; 0:10)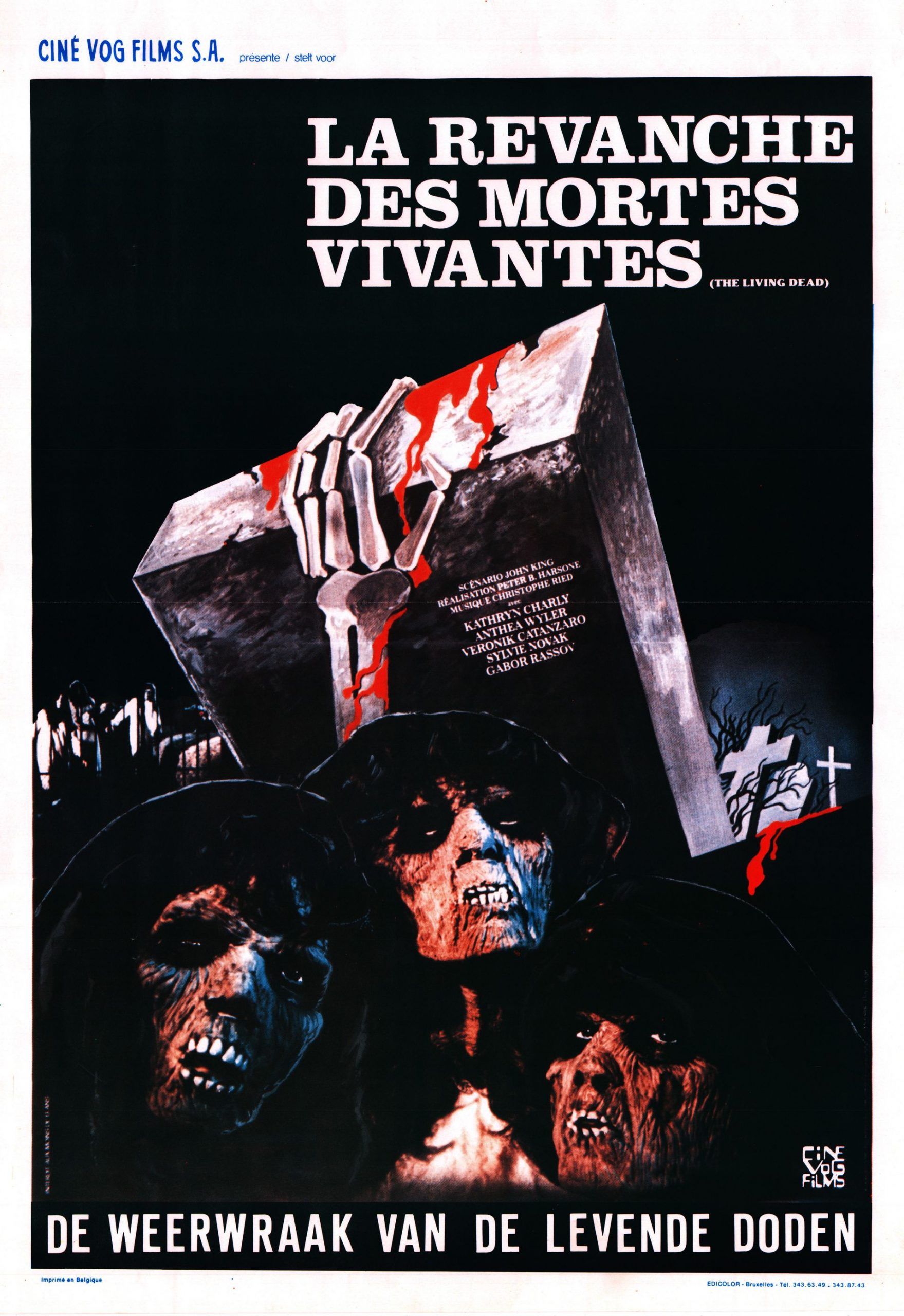 NSFW Gallery: Revenge of the Living Dead Girls (Severin Films Blu-ray) Screenshots - Cultsploitation
Exploiting Cult Cinema
Verdict
Revenge of the Living Dead Girls is a flick I'll be coming back to over the years to get my fill of naked zombies, bad dubbing, crazy twists, erotic(?) swordplay, and unexplained fetal births. Severin Films does a wonderful job with the release and if you missed out on the limited edition or don't own any of the international releases, this is the one to pick up!