After watching the hilarious cheese filled 80s ninja-cop action flick titled Rage of Honor, the little 10-year-old Tatlock inside of me is jumping around and doing flips. I never saw Rage of Honor before, but I can tell you up front, this movie was a delight and my younger self would have had a field day with this action packed flick. Yes, the movie has tons of terrible acting (even Sho Kosugi himself admits to being a bad actor), but the movie knows how to deliver a solid action experience, disjointed plot and all. The Blu-ray from Arrow Video is lacking a substantial amount of special features, but it makes up for it with some really damn solid audio and video.
Product Information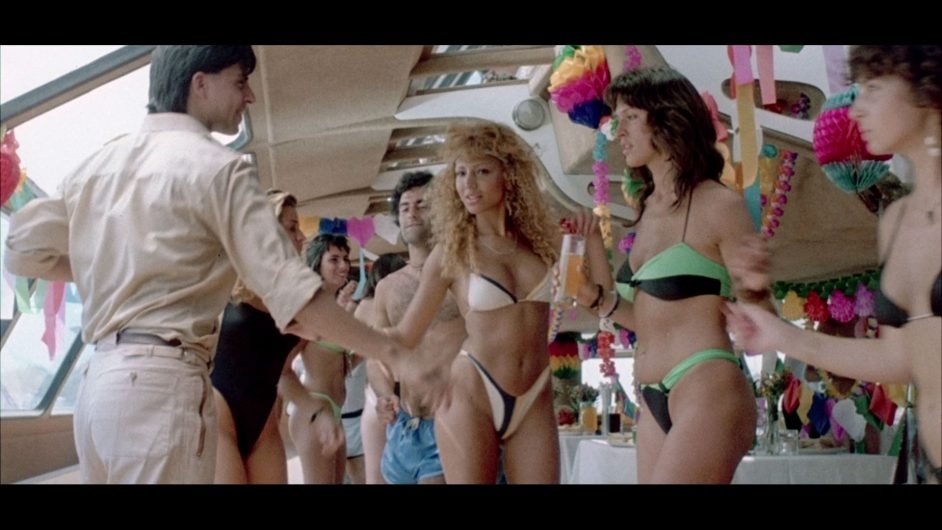 DISCS: 1
RUN-TIME: 92 mins
ASPECT RATIO: 1.85:1
RESOLUTION: 1080p
AUDIO: LPCM Stereo 2.0
LANGUAGE: English
SUBTITLES: English
REGION: A/1
RATING: R
PRODUCTION DATE: 1986
RELEASE DATE: Mar 15, 2016
"Plot Summary"
Following his star turns in '80s actioners Enter the Ninja and Revenge of the Ninja, Sho Kosugi continued his domination of the US martial arts movie with 1987's Rage of Honor – helmed once again by Pray for Death director Gordon Hessler (The Golden Voyage of Sinbad). Federal agent Shiro Tanaka (Kosugi) used to live for his job – now, he lives only for revenge. When his partner is killed during a bungled drug bust, Shiro throws away his badge and the rule book with it: arming himself with an array of deadly weaponry – including nunchucks, blades and ninja stars – he sets out to Buenos Aires to settle the score with the bad guys. Packing explosions, flying kicks and somersaults aplenty (as well as some truly logic-bending stunt sequences), Rage of Honor sees Kosugi at the top of his game as he battles his way from the streets of the urban jungle to the very literal jungles of South America.
Rage of Honor
Sho Kosugi plays Federal agent Shiro Tanaka, who's partner was just recently tortured and murdered by the hands of Havlock (Lewis Van Bergen). You know Havlock is evil because he wears a scarf and seems to adore his white shirt/pants assemble. Plus, seeing him fluff his mullet back over his scarf just screams EVIL to me. Anyway, back on topic. Shiro vows to take down the man who killed his partner. He travels to Buenos Aires, with his hot girlfriend in tow (Robin Evans) to find the killer and along the way he manages to throw guys out hotel windows, put himself in jail and kill two ninjas in the process, and finally, nearly wipe out an entire indigenous tribe in the Argentina jungles. Shiro is certainly busy, but his honor is telling him that it's okay to kill and kill and kill and kill…
Rage of Honor is pure and simply a cheesy 80s ninja action flick, walking hand and hand with the plenty of other flicks of its time (American Ninja, Revenge of the Ninja). It's got everything you want in this genre. It's got plenty of mustache/mullet wearing bullet/ninja star sponges. It's got an over the top villain, double crosses and Sho Kosugi flipping around and randomly looking over his shoulder in all the right places.
The plot is definitely all over the place. It doesn't know what it wants to be. Does it want to be a revenge flick? Or maybe it wants to be a rescue mission flick? How about a one-man army flick? Either way, Rage of Honor hits all the right marks, albeit extremely cheesy marks, in all three categories.
Blu-ray Opinion
I'll get the obvious out of the way first and that's my surprise at the lack of special features on this Blu-ray. I'm not saying it's featureless, but it certainly is lacking the normal substance other Arrow Video releases have. You get a 17-minute interview with Sho Kosugi, which is a continuation of the interview on the Pray for Death Blu-ray from Arrow Video. Kosugi discusses his career from Rage of Honor and on. He goes more into detail about his upcoming flick than he ever does about Rage of Honor. You also get an almost 3-minute interview with composer Stelvio Cipriani, which isn't very informative. Another interview on the disc is with Chris Poggiali, which runs 7:34. It talks about the many American Ninja flicks that came out in the 80s. Rounding everything out is four trailers for Sho Kosugi's other ninja flicks, and finally a booklet. My biggest complaint is the lack of information in relation to Rage of Honor.
My disappointment in special features aside, the audio and video for Rage of Honor carries on the tradition of fantastic releases from Arrow Video. There is a bit of degradation in the source material, with a few scenes having some scratches or a funny blue line on screen. It's never distracting enough to warrant any sort of major complaint. The audio also fares really well, with a solid and loud presentation. If I was sad about the features, I'm extremely happy about the audio/video.
Special Features
High Definition Blu-ray (1080p) presentation from a transfer of original elements by MGM
Optional English SDH subtitles for the deaf and hard of hearing
Sho and Tell Part 2: The Domination – brand new interview with star Sho Kosugi on Rage of Honor and the later stages of his film career
Honorable Mentions with Stelvio Cipriani – an interview with the Rage of Honor composer
American Ninjas – writer Chris Poggiali on the rise in popularity of the Ninja film in the US in the 1980s
Sho Kosugi Trailer Gallery: Enter the Ninja (1981), Revenge of the Ninja (1983), Pray for Death (1985) and Rage of Honor (1987)
Reversible sleeve featuring original and newly commissioned artwork by Matthew Griffin
Verdict
Rage of Honor will please plenty of ninja fans. It's got the right amount of ass kicking to make people happy. Sho Kosugi does a good job at kicking butt, but he definitely has a hard time in the acting department. At least Lewis Van Bergen, who plays the lead villain is wonderful as the over the top baddie. Arrow Video's Blu-ray is damn impressive in some parts (audio/video), but lacking in other areas (special features). You have to ask yourself; why do you buy a Blu-ray? Is it for the movie and audio/video? If so, you'll be a ninja clad pig in mud, but if it's for the special features, you'll just be a sad, mud covered pig. My useless opinion? It's worth picking up.