Release: 1957, Pages: 259
Well, that didn't take long. Ian Fleming is back on track, after a shaky attempt at diamond smuggling, in Diamonds Are Forever, but From Russia, with Love, has got a lot positive things going for it and barely anything against. In fact, I think this one ranks up just highly as Casino Royale, as one of my favorite Bond books. Read on to see if you agree…
Short nitty-gritty plot description from the back cover is as follows: Name: Bond, James.
Height: 183 cm, weight: 76 kg; slim build; eyes: blue; hair: black; scar
down right cheek & on left shoulder; all-round athlete; expert
pistol shot, boxer, knife-thrower; does not use disguises. Languages:
French and German. Smokes heavily (NB: special cigarettes with three
gold bands); vices: drink, but not to excess, and women.
Every
major foreign government organization has a file on British secret agent
James Bond. Now, Russia's lethal SMERSH organization has targeted him
for elimination. SMERSH has the perfect bait in the irresistible Tatiana
Romanova, who lures 007 to Istanbul promising the top-secret Spektor
cipher machine. But when Bond walks willingly into the trap, a game of
cross and double-cross ensues, with Bond both the stakes and the prize.
From Russia, with Love starts off interesting, in that Bond doesn't show up until page 95. Instead, we follow the evil doers of SMERSH, known as Red Grant, a muscled psychotic, who loves to kill and Rosa Klebb, an ugly as sin Colonel, who loves to torture and then kill. SMERSH is down on it's luck, having been foiled numerous times and they want to get even and show the world who is boss. What's the best way to do that you ask? Well, kill a top agent in the British Secret Service, that's how and that person could only be Bond, James Bond. In order to do so, they devise a plan that involves using a beautiful Russian spy, by the name of Tatiana Romanova, who will woo Bond with her body and looks and she will also provide the Russian Spektor code machine. This is where Bond comes into play, as he hears word from M, about this Russian woman who has fallen in love with Bond and is willing to trade the Spektor, to meet him and come to England. Little does Bond know, this is a trap and the Orient Express train ride, him and Tatiana are going to take, could possibly be his last.
From Russia, with Love pretty much has it all. It's got beautiful women, Russian spy's, gadgets and a brilliant setting aboard a speeding train. The fact that Ian Fleming chose to not have Bond in a big portion of the book, but in fact focus on the other guys, shows you how powerful of a writer he was. He could keep you invested in the story and you didn't need the main hero to be present. Of course, once Bond does enter the story, it gets even better, as he travels to Istanbul and meets Kerim Bey, from MI6, who teams up with Bond and helps him and the stunning Tatiana, try to get back to the safety of London, but not before a few side missions, involving a plot to assassinate Kermin and eavesdropping in on the Russians, by the way of an underground passage.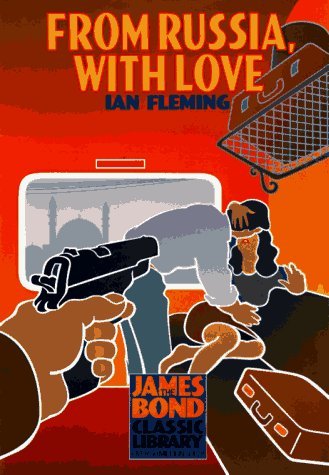 One we board the Orient Express, things are almost wrapped up, but not before Bond has to go face to face with a killing machine, in a fight that reads as intense as it sounds. We also can't forget the amazing and shocking ending, that leaves the reader with their jaw dropped. I can't even imagine what it would've been like back then, when the next book wouldn't be released until a year later. Fans must've been going crazy!
I really don't have any complaints, but only a few wishes. I wish Red Grand would've been in the book a little more than he was. Fleming develops his character wonderfully at the beginning, but he is pushed aside until later. He was an interesting character and I would've loved to get more of him. Same goes for Rosa Klebb, who also gets developed early on, but is pushed aside until needed. Besides those two nitpicks, From Russia, with Love is damn near perfect.
From Russia, with Love has Fleming back on track and Bond on an adventure that puts him at risk of dying, but not before being seduced and tricked into falling in love with the enemy. (Doesn't sound like a bad way to go if you ask me.) From Russia, with Love is the love letter you've been waiting by the mailbox for and you can't go wrong tearing open this letter and giving it a read.
Rating: 5/5 (Even with the few nitpicks, From Russia, with Love is Fleming at his finest.)
JAMES BOND WILL RETURN
IN
"DR. NO"