From the Mind of Tatlock is back again with another review of a classically absurd Frank Henenlotter film by the name of Brain Damage. If that sounds familiar, that is because I have already reviewed the movie before on this site, so this review will mainly focus on the Blu-ray from Arrow Video, with a few quotes from my previous movie review. Without further ado, let's begin.
PLOT SUMMARY
IT'S A HEADACHE FROM HELL! From Frank Henenlotter, the man behind such cult horror favourites as Basket Case and Frankenhooker, comes Brain Damage – the ultimate head-trip, now finally on Blu-ray! Meet Elmer. He's your local, friendly parasite with the ability to induce euphoric hallucinations in his hosts. But these LSD-like trips come with a hefty price tag. When young Brian comes under Elmer's addictive spell, it's not long before he finds himself scouring the city streets in search of his parasite's preferred food source – brains! Featuring late TV horror host John Zacherley as the voice of Elmer, Brain Damage boasts some of the most astonishing bad taste gore-gags ever realized, including the notorious "brain-pulling sequence" and a blow-job that ends with a distinctly unconventional climax.
REVIEW
If you want to know whether Brain Damage is any good (it is), here a few quotes from my Brain Damage Movie Review.
Chock full of sexual undertones, anti-drug messages and a weird talking slug monster named Aylmer, Brain Damage is a film that requires a certain taste to like it.
I now sit here several hours later and find myself feeling like I really enjoyed this one. It's chalk full of humour and never once takes itself seriously (I mean come on, a talking brain eating slug for pete's sake). It also has some nice gory bits and a lot of bloody splatter…
Brain Damage is most definitely a film which will only attract a certain group of people, who enjoy bizarre situations, with a lot of raunchy and obscene humour.
The only thing I can really say that may convince you to give this movie a watch, is if you happened to look up the definition of 'insanely insane', you would probably see a picture of Aylmer, the brain eating slug next to it and that my friends is how an unknown, but completely enjoyable film comes to be born. Born via a phallic-looking, suave-talking, brain-eating slug creature.
As you can see, I enjoyed the weird absurdity of Brain Damage, which gave us a big helping of gore, humour and an interesting look at the dangers of drug use, in this case, a brain eating slug substituting for the drug.
Now with that out of the way, what do I think of the Blu-ray? Well, considering that this release is from Arrow Video, you can already guess that I loved the heck out of it. The transfer, for the most part, is fantastic, with a few drops in quality here and there. When comparing it to the DVD release, you can tell the film has benefited from the upgrade. Of course, some of the effects will appear dated on higher resolution, but that just becomes part of the charm of Brain Damage. I should point out that the Synapse DVD release of Brain Damage shows a bit more information on the top and bottom of the frame. As you can see in the photo below, you can see a bit more of the shower rod in the DVD picture. You are not losing any information with the Blu-ray release, but I thought I would point it out nonetheless.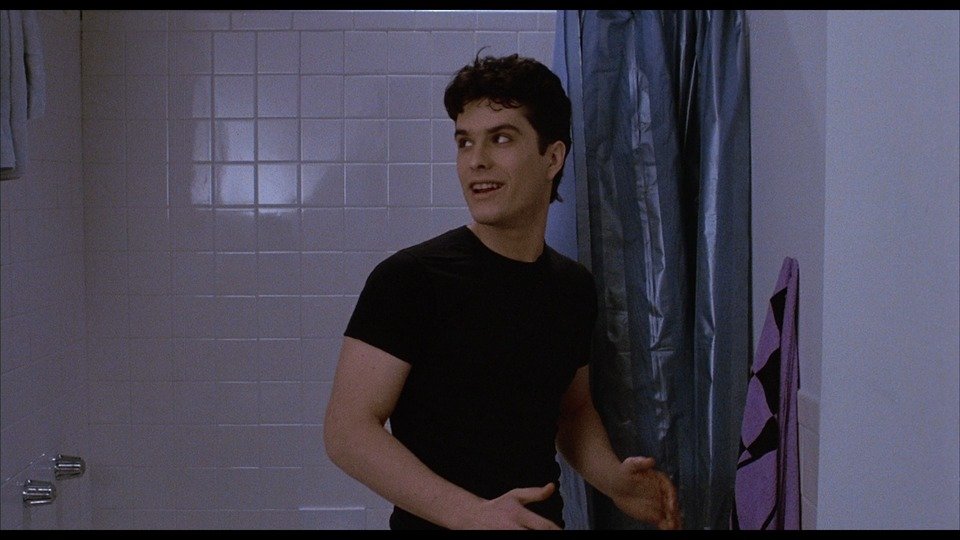 Audio quality has also been increased with a choice between LPCM Mono and DTS-HD Master Audio 5.1 tracks. Nothing jumps out at me as being terrible. No need to fiddle with the volume control with this one.
Of course, the real treat with this Limited Edition Blu-ray is the special features, in which this disc is overflowing with. You have a 54-minute retrospective, which is highly informative. You also are treated to a few other interviews that can range from 5 minutes (Karen Ogle: A Look Back) all the way up to 20 minutes (Frank Henenlotter Q & A). If you loved Brain Damage and wanted to know more, you'll be a few hours diving into all the goodies.
VERDICT
I know this review comes across as being a bit on the short side, but there isn't much more I can say about this weirdly enjoyable 80s horror flick. It's got a certain style that will please some and displease others, but most that are looking to buy the Blu-ray know what they are getting into when popping in this movie. Having said that, the Limited Edition release of Brain Damage from Arrow Video is a no-brainer (no pun intended) pickup.
SPECIAL FEATURES
High Definition Blu-ray (1080p) and Standard Definition DVD presentations
Original Mono and 5.1 DTS-HD MA Surround Audio Options
Optional English subtitles for the deaf and hard of hearing
Isolated Score
Brand new audio commentary by writer-director Frank Henenlotter
Listen to the Light: The Making of Brain Damage – brand new documentary featuring interviews with actor Rick Herbst, producer Edgar Ievins, editor James Kwei, first assistant director Gregory Lamberson, visual effects supervisor Al Magliochetti and makeup
The Effects of Brain Damage – FX artist and creator of 'Elmer' Gabe Bartalos looks back at his iconic effects work on the film
Animating Elmer – featurette looking at the contributions of visual effects supervisor Al Magliochetti
Karen Ogle: A Look Back – stills photographer, script supervisor and assistant editor Karen Ogle recalls her fond memories of working on Brain Damage
Elmer's Turf: The NYC Locations of Brain Damage – featurette revisiting the film's original shooting locations
Tasty Memories: A Brain Damage Obsession – an interview with superfan Adam Skinner
Brain Damage Q&A with Frank Henenlotter recorded at the 2016 Offscreen Film Festival
Image Galleries
Original Theatrical Trailer
Bygone Behemoth – animated short by Harry Chaskin, featuring a brief appearance by John Zacherle in his final onscreen credit
Reversible sleeve featuring original and newly commissioned artwork by Sara Deck
Limited Edition O-card with exclusive artwork
Collector's Booklet with new writing on the film by Michael Gingold, illustrated with original archive stills and posters
PRODUCT INFORMATION
DISCS: 2 (1 Blu-ray, 1 DVD)
RUN-TIME: 86 min
ASPECT RATIO: 1.85:1
RESOLUTION: 1080p
AUDIO: LPCM Mono, DTS-HD Master Audio 5.1
LANGUAGE: English
SUBTITLES: English SDH
REGION: A
RATING: NR
PRODUCTION DATE: 1988