Annoying co-workers, troubled relations with the hot HR girl, slackers and a missed promotion are only peanuts when you throw in the presence of vampires. Bloodsucking Bastards (known as Bloodsucking Bosses at Wal-Mart) shows you how crappy cubicle life can be and then throws in blood hungry vampires to spice things up. If you're in the mood for fangs and paperwork, Bloodsucking Bastards is going to be your ticket to success…
PRODUCT INFORMATION
DISCS: 1
RUN-TIME: 86 min
ASPECT RATIO: 2.35:1
RESOLUTION: 1080p
AUDIO: English: DTS-HD Master Audio 5.1, English: DTS-HD Master Audio 2.0
LANGUAGE: English
SUBTITLES: English
REGION: A
RATING: NR
PRODUCTION DATE: 2015
RELEASE DATE: Nov 3, 2015
PLOT SUMMARY

An action-packed vampire comedy in the vein of Office Space and Shaun of the Dead, Bloodsucking Bastards stars Fran Kranz (Cabin in the Woods) as Evan Sanders, a dutiful and overworked employee stuck at a soul-killing corporation with his beautiful girlfriend, Amanda (Emma Fitzpatrick, Significant Mother), and his slacker best friend Tim (Joey Kern, Beneath). Evan's world begins to crumble when Amanda dumps him and his boss, Ted (Joel Murray, God Bless America), hands his coveted promotion to his nemesis Max (Pedro Pascal, Game of Thrones). But just when Evan's convinced that life couldn't bite any harder, his office mates start going through disturbing changes… and bodies begin to pile up. Evan must find a way to stop the evil brewing amidst the cubicles and water coolers, win back Amanda, and rescue his workplace pals before his life and career go from dead-end… to just dead.
MOVIE
Evan (Fran Kranz) has a crappy job and after saying the wrong thing possible to his hot girlfriend (The Collection's Emma Fitzpatrick), who also happens to be the HR lady at work, his life starts to take a downward spiral. However, if he can get the new Sales Manager position, things might start looking up. Unbeknownst to him, his boss has another idea in mind and brings in Game of Thrones actor Pedro Pascal, who plays Max, the suave sales managers with a dark secret (I think you can guess what it is,) to reinvigorate the sales force and put a little bite back in the workplace. Evan soon finds out that all isn't right and vampires may be taking over the office, so he teams up with Cabin Fever actor Joey Kern to take them head on in a bloody battle to the death.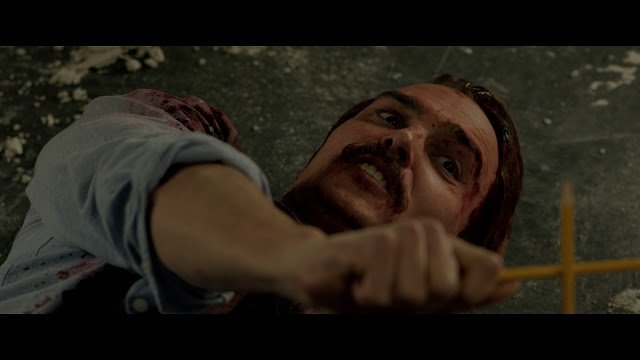 Bloodsucking Bastards was pretty much just a blast to watch. It's got plenty of comedy running through its veins and a wonderful amount of gore to keep you full. The actors hit the right notes and have fun with the roles. The flick doesn't go all out with the vampire shenanigans as much as I hoped it would; save for a bloody ending, but the laughs made me easily forget any faults. If you like low budget, quirky flicks, that fall under the radar of corporate Hollywood and don't take themselves seriously, Bloodsucking Bastards is one flick worth sinking your teeth into (I'm sorry, that's a crappy pun).
BLU-RAY
Scream Factory has released Bloodsucking Bastards on Blu-ray and they've done a fine job with the video and audio, with no complaints from me. The Special Features are a little on the late side, with a few behind the scenes, an audio commentary and a gag reel clip. There are also some "hidden" easter eggs to check out, which are acted out skits to promote the movie. It's nothing major, but fun nonetheless.
BLU-RAY SPECIAL FEATURES
Gag Reel
Behind The Scenes (Bloodsucking Bastards On Set)
Audio Commentary With Dr. God Comedy Troupe Including Director Brian James O'Connell, Producer/Actor Justin Ware, Writer/Actor Sean Cowhig, Actor Neil W. Garguilo and Actor David F. Park
VERDICT
Bloodsucking Bastards is a dark comedy vamp flick that hits most of the right beats and is never once boring to watch. It's got some good laughs going on and the blood is running deep red. The Scream Factory Blu-ray is definitely worth a purchase if you're feeling the least bit peckish.
RATING