The 1970s were a busy time for Giallo films in Italy, with well over a dozen (a conservative estimate) being released a year. The competition was certainly stiff, so you would need to have to take a different approach in order to rise above the other films. The step that The Bloodstained Butterfly chooses, is to skip on the blood and focus on the police procedural process of catching a criminal. It's an interesting concept that worked in The Bloodstained Butterfly's favour.
PRODUCT INFORMATION
DISCS: 2 (1 Blu-ray, 1 DVD)
RUN-TIME: 99 min
ASPECT RATIO: 2.35:1
RESOLUTION: 1080p
AUDIO: Italian: DTS-HD Master Audio Mono, English: DTS-HD Master Audio Mono
LANGUAGE: Italian, English
SUBTITLES: English
REGION: A/1
RATING: NR
PRODUCTION DATE: 1971
RELEASE DATE: August 23, 2016
PLOT SUMMARY
Directed by Duccio Tessari (Death Occurred Last Night, A Pistol for Ringo), The Bloodstained Butterfly melds the lurid giallo traditions popularised / popularized by Dario Argento and Mario Bava with courtroom drama, resulting in a film that is as concerned with forensic detail and legal process as it is with grisly murders and audacious set-pieces. When a young female student is savagely killed in a park during a thunderstorm, the culprit seems obvious: her lover, TV sports personality Alessandro Marchi (Giancarlo Sbragia, Death Rage), seen fleeing the scene of the crime by numerous eyewitnesses. The evidence against him is damning… but is it all too convenient? And when the killer strikes again while Marchi is in custody, it quickly becomes apparent that there's more to the case than meets the eye… Starring 70s heartthrob Helmut Berger (Dorian Gray, The Godfather: Part III) alongside genre mainstays Evelyn Stewart (The Psychic, The Case of the Scorpion's Tail) and Carole André (Colt 38 Special Squad), and featuring a score by Gianni Ferrio (Death Walks at Midnight), The Bloodstained Butterfly is presented uncut and in a sumptuous new 4K restoration that allows this unique and haunting thriller to shine like never before!
MOVIE REVIEW
A nameless teenagers body rolls lifelessly down a hill, with the only suspect, a TV sports anchor seen fleeing the scene. The police commence their investigation and mount up plenty of evidence against the suspect. They manage to finally arrest the man and take the case in front of the court. However, while the original suspect wallows behind bars, another murder takes place with the same M.O. Could it be that the wrong killer rots behind bars, even though all the evidence proves he is guilty? A murder mystery is certainly afoot in The Bloodstained Butterfly.
Years before shows like CSI and Law & Order flooded your TV sets, The Bloodstained Butterfly came along and turned the Giallo genre on its head by focusing on what goes into catching a killer and putting him away for good. However, this wouldn't be a Giallo without a few more murders to spice things up and throw a wrench in the whodunit answers the viewer seeks.
Director Duccio Tessari manages to keep the murders a mystery all the way to the bloody end. Although, he doesn't make things easier for the viewer to guess what or how it's going to go down. Writers Gianfranco Clerici and Duccio Tessari threw in several red herrings, cheating spouses and mysterious glances to keep the viewer on their toes.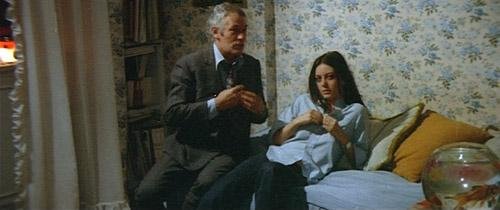 Fans of bloody Giallos, with brilliant colour and glorious set pieces like Mario Bava's Blood and Black Lace, might end up being disappointed with The Bloodstained Butterfly. It is light on the blood and murder, with only three nearly bloodless murders taking place. This may make a Giallo fan grumble, but it would be a disservice to the flick if you skipped out on seeing it due to the lack of red plasma plastering the screen.
If you happened to have checked out Arrow Video's other Blu-ray release of Death Walks at Midnight, you may notice that Musician Gianni Ferrio is again hitting the right notes with this flick. Gianni Ferrio perfectly channels Tchaikovsky with his work, as Tchaikovsky's music plays an important role in the plot. As mentioned in the included essay with Troy Howarth, the music in the film can feel out of place at times, but that was the normal thing with plenty of Italian Giallos.
BLU-RAY OPINION
Presented in a stunning 4K restoration, The Bloodstained Butterfly lands high on the list of perfectly done transfers from Arrow Video. The film appears clean, with dirt and debris removed in several areas, but still keeping the film grain intact. Both Italian, with new English subtitles, and English Dubbed are the two options on the Blu-ray for audio.  However, Italian with subtitles is the way to go with this flick, as the English dubbing is laughable.
The Blu-ray has a well-rounded amount of special features, with one favourite being the visual essay with Troy Howarth on the Giallo industry, with The Bloodstained Butterfly being the focus. It is a highly informative look at the film and many other films of its time. Also provided is an interview with actor Helmut Berger, who seems rather grumpy throughout the interview. Berger isn't the only person interviewed, as actress Ida Galli provides an in-depth look at her career and her part in The Bloodstained Butterfly. Rounding everything out is an enjoyable commentary with critics Alan Jones and Kim Newman, a career retrospective on director Duccio Tessari, trailers and finally, a photo gallery. Also packaged with the Blu-ray is a wonderful 36-page booklet on The Bloodstained Butterfly.
SPECIAL FEATURES
Brand new 4K restoration of the film from the original camera negative
High Definition Blu-ray (1080p) and Standard Definition DVD presentations
Original Italian and English soundtracks in DTS-HD MA mono 1.0
Newly translated English subtitles for the Italian soundtrack
Optional English subtitles for the deaf and hard of hearing for the English soundtrack
New audio commentary with critics Alan Jones and Kim Newman
Murder in B-Flat Minor, a new visual essay on the film, its cast and crew by author Troy Howarth
New career retrospective on director Duccio Tessari
Original Italian and English theatrical trailers
Gallery of original promotional images
Reversible sleeve featuring original and newly commissioned artwork by Matthew Griffin
Limited edition 36-page booklet illustrated by Tonci Zonjic, containing writing by James Blackford, Howard Hughes and Leonard Jacobs
VERDICT
One doesn't instantly think Giallo when they see a film that plays out like a Law & Order episode. However, The Bloodstained Butterfly manages to mix the traditional Giallo with a healthy dose of courtroom procedure. It may lack the over the top murder set pieces and the blood to go along with it, but it makes up for it with a mystery that's fun to see play out. Arrow Video tops off the high quality with a near-perfect Blu-ray release.