Black Mama, White Mama features a lot of nudity, beautiful women (Pam Grier and Margaret Markov are the leads in this flick, so beauty is front and center), a portion of the plot dedicated to a women's prison, with a lesbian prison guard no less (Lynn Borden); a honky-tonk Sid Haig; and an actual honest to god dick measuring contest. Now, how can you not end up loving this movie? Seriously, your pulse would have to be close to zero to not get a kick out Black Mama, White Mama. Arrow Video knows this and has gone above in beyond in releasing it on a fantastic Blu-ray, with all new special features and wonderful audio and video. I could stop the review now and tell you to go out and buy it, but why not read on see what's up with this truly fun movie…
Product Information
DISCS: 2 (1 Blu-ray, 1 DVD)
RUN-TIME: 87 mins
ASPECT RATIO: 1.85:1
RESOLUTION: 1080p
AUDIO: LPCM Mono
LANGUAGE: English
SUBTITLES: English
REGION: AB/12
RATING: R
PRODUCTION DATE: 1973
RELEASE DATE: Mar 22, 2016
Plot Summary
Before her iconic turn in Coffy, Pam Grier starred alongside Margaret Markov in a grindhouse spin on Stanley Kramer's The Defiant Ones, fusing the Women in Prison film with the emerging Blaxploitation movement for a riotous romp of bullets, babes and blood! Lee (Grier), a tough prostitute and Karen (Markov), a revolutionary, are admitted to a tough women's prison where almost immediately (after some playful showering that prefigures Porky's) they clash. Packed off to a maximum security prison, their transport is ambushed by Karen's guerrilla friends and the two escape into the Filipino jungle. Chained together and with differing escape plans their clash intensifies as Lee wants to retrieve a stash of stolen cash to get her off the island and Karen wants to re-join her revolutionary group. Escape isn't easy as they come up against a series of obstacles including a corrupt cop, a bounty hunter, a sadistic Drug Lord and guerrillas who threaten to turn everything upside down. Chock full of girl fights, gun battles, nudity and humour, Black Mama White Mama, which was also known as Women in Chains and Hot, Hard and Mean, lives up to all its titles as well as featuring a brilliant Sid Haig (Spider Baby, House of 1000 Corpses) as a cowboy bounty hunter and Lynn Borden (Frogs, Dirty Mary Crazy Larry) as a lesbian guard from a script co-written by Jonathan Demme (Caged Heat) and a score sampled by Quentin Tarantino for Kill Bill.
Black Mama, White Mama is all about the sexy women, boobs, action and laughs. Its plot follows Lee (Grier) and Karen (Markov), who after breaking out of a lesbian run prison, are being chased down by Sid Haig dressed like a cowboy, Karen's resistance friends and Lee's mob enemies. It's an action-packed, laugh riot, with a lot going on in such a tightly packed runtime of 87 minutes.
It isn't all roses and hot boobies, though, as there are a few choices I don't agree with. The early scenes with the prison and Lynn Borden's erotically charged character Matron Densmore come and go way too fast for my distasteful tastes. I would have loved to see more scenes in the prison, but mainly cause I enjoyed all the female nudity and staring at Borden whilst she fondles herself as she peeps at the prisoners during an extended shower scene. What can I say, I'm a perv.
Even with the blink and you miss it prison stuff, the rest of the movie is still a blast to watch. Pam Grier and Margaret Markov work wonderfully together, be it when they are fighting with each other, rolling around and tearing each others clothes off, or when they are both working together to take down a pervy man. Sid Haig is also wonderful in this movie and he hits all the right notes with his wacky portrayal of the hired thug tasked with bringing in the escaped convicts. He knows when to relax, though, as he finds time to frolic with the daughters of one of his associates, and also manages to fit in some time to measure two guys penises (long story, don't ask).
As you can see, Black Mama, White Mama is a flick that takes bits and pieces from the enjoyable blacksploitation and women's prison films of its time, but also manages to provide plenty of laughs, action set pieces and a scene of a topless woman licking a hairy chested man for no reason whatsoever. If that isn't enough to make you immediately drop what you are doing and watch this flick, well, I don't know what to think.
Blu-ray Opinion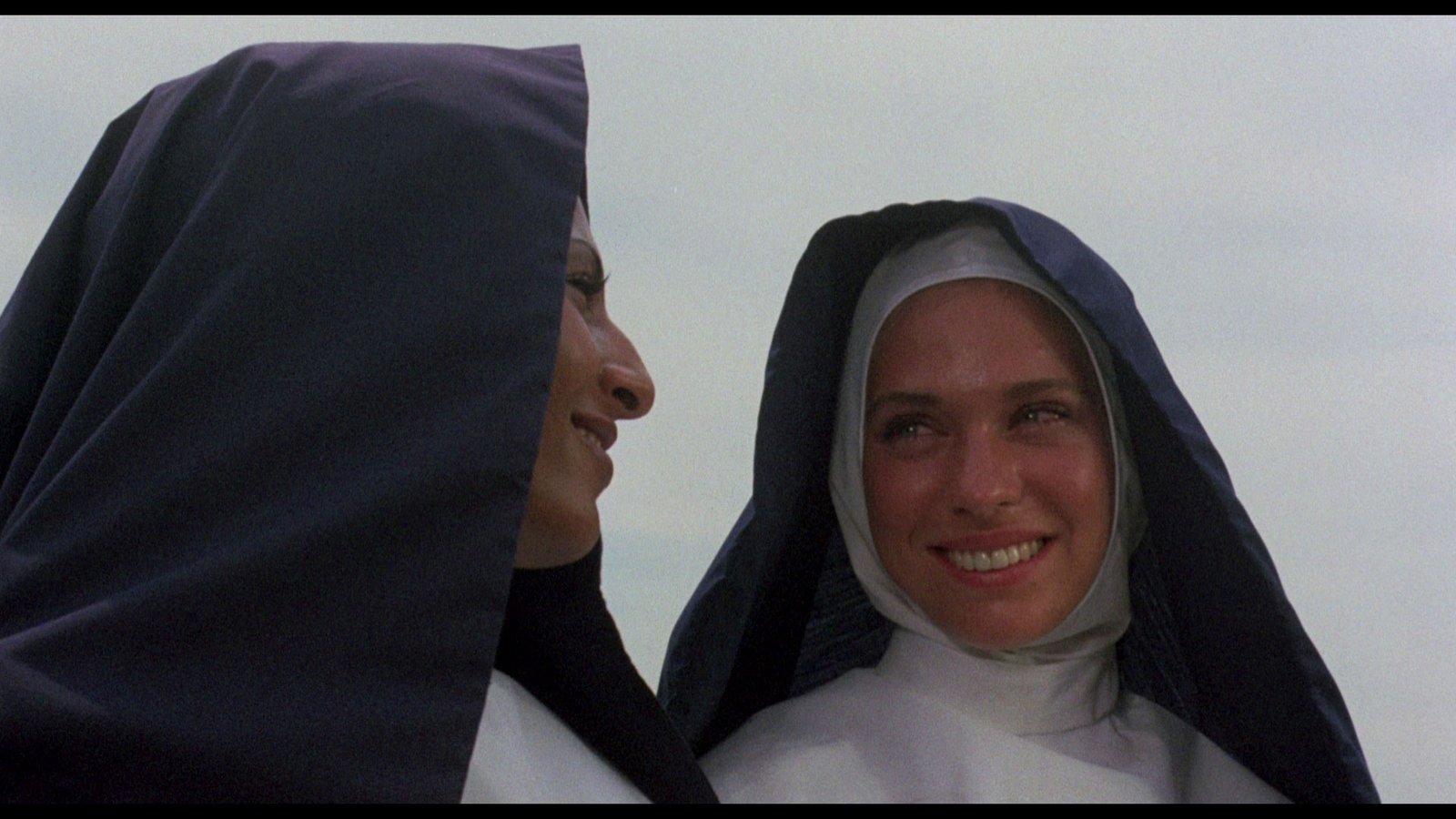 Arrow Video can do no wrong it seems, as they once again give us a wonderful Blu-ray, with solid audio and video and a special features package that is incredibly enjoyable to check out. There are some really delightful interviews with lead actress Margaret Markov, co-star Sid Haig (yes, he too also agrees that the clothing choices were a bit ridiculous), an archive interview with director Eddie Romero, a commentary with filmmaker Andrew Leavold, and finally a trailer and a gallery. There is also a booklet and reversible sleeve provided with the Blu-ray. The only complaint I have is the lack of an interview with Pam Grier. I would love to hear what she has to say about this movie, but alas, we don't get to find out.
Special Features
High Definition Blu-ray (1080p) presentation
Original uncompressed mono PCM audio
Optional English subtitles for the deaf and hard of hearing
Audio commentary with filmmaker Andrew Leavold, director of The Search for Weng Weng
White Mama Unchained: An interview with star Margaret Markov
Sid Haig's Filipino Adventure: An interview with star Sid Haig
The Mad Director of Blood Island: A previously unseen archive interview with director Eddie Romero
Trailer
Gallery featuring promotional images and the original press book
Reversible sleeve featuring original and newly commissioned artwork by Sean Phillips
Verdict
Black Mama, White Mama is 87 minutes of good times. It's got everything I love in a movie: beautiful women, boobies, laughs, action, boobies and finally, and most importantly, boobies. The Blu-ray from Arrow Video will fit in nicely on your shelf next to Coffy and Sheba, Baby, two other wonderful Pam Grier releases from the stellar Arrow Video.